Integrated Mobility Innovation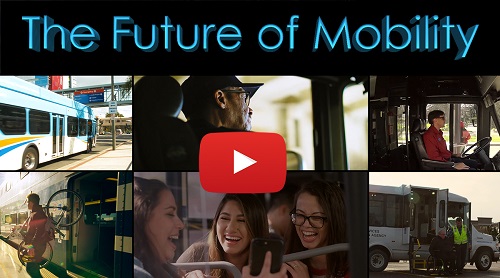 FTA's Integrated Mobility Innovation (IMI) Program funds projects that demonstrate innovative and effective practices, partnerships and technologies to enhance public transportation effectiveness, increase efficiency, expand quality, promote safety and improve the traveler experience.
What's New
On March 16, 2020, FTA announced selections for $20.3 million in FY19 IMI projects. The demonstration projects focus on Mobility on Demand, Strategic Transit Automation Research and Mobility Payment Integration.
Overview
Innovations in information, communications, and transportation technologies are transforming personal mobility. As recently as a decade ago, mobility options were limited to private vehicles, public transit and limited for-hire services (taxis). Today, a diverse mobility ecosystem exists that provides unprecedented flexibility and modal choices, including public transit, bikeshare, ride-hailing, electric scooters and micro-transit. Private companies are providing many of these new mobility services bringing competitive dynamism to transportation. At the same time, public transportation agencies are taking on new roles as mobility managers within the evolving transportation ecosystem, while they simultaneously transform their core operations to offer better service and improved integration with other modes. 
Through the Integrated Mobility Innovation (IMI) program, FTA is conducting research on new service options in combination with available technologies that allow for greater individual mobility. Goals include:
Explore new business approaches and technology solutions that support mobility
Enable communities to adopt innovative mobility solutions that enhance transportation efficiency and effectiveness
Facilitate the widespread deployment of proven mobility solutions that expand personal mobility
FTA developed the IMI program to bring together three distinct areas of inquiry: Mobility on Demand (MOD) Sandbox demonstrations (supporting better connections for travelers to the overall transportation network; exploring new MOD accessibility models; examining data sharing and data collection methods allowing for a better understanding of transportation impacts (economic, societal, personal); FTA's Strategic Transit Automation Research-STAR program (automated shuttle demonstrations; automated driver assistance demonstrations; and Mobility Payment Integration-MPI (leveraging retail models of payment for public transportation systems; integrate regional payment practices; single regional payment platforms).
The IMI demonstration program will also leverage FTA's leadership of the Accessible Transportation Technologies Research Initiative (ATTRI) to ensure that all activities conducted as part of the IMI program advance the vision of a Complete Trip for All. The Complete Trip concept reflects the understanding that a person's travel consists of a chain of steps beginning with an often-spontaneous decision to make a trip, through to planning an itinerary, traversing the built environment and its transportation networks (with or without a vehicle); navigating streets, intersections, facilities, stations, and stops to their destination – safely, efficiently, and carefree. The Complete Trip is the realization that if any part of the trip-making chain is broken, the trip cannot be completed, and an opportunity is lost.
Like the MOD Sandbox program, the IMI program also provides FTA the opportunity to measure project impacts and assess how FTA's current policies and regulations may support or impede these new service transportation models through evaluation of all project efforts.
Objectives
The IMI program is intended to help public transit agencies:
Enhance transit industry preparedness for IMI
Assist the transit industry to develop the ability to integrate IMI practices with existing public transit service
Validate the technical and institutional feasibility of IMI business models, and document IMI best practices that may emerge from the demonstrations
Measure the impacts of IMI on travelers and transportation systems
Examine relevant public sector and Federal requirements, regulations and policies that may support or hamper the public transit sector's adoption of IMI
Selected IMI Demonstration Projects
FTA issued a Notice of Funding Opportunity (NOFO) for the IMI program in the summer of 2019. In response to the NOFO, FTA received 104 eligible project proposals totaling approximately $107 million.
On March 16, 2020, the USDOT/FTA announced approximately $20.3 million in grant selections through the Integrated Mobility Innovation (IMI) program. IMI supports projects that use innovative technologies and processes to improve access to public transportation, increase public transportation efficiency, and enhance the overall rider experience. Click here to access the FY 2019 IMI Project Selections.
Statutory References
Public transportation innovation (49 U.S.C. § 5312)
Allocation of Funding
The IMI projects are funded under FTA's Research, Development, Demonstration and Deployment program authority.