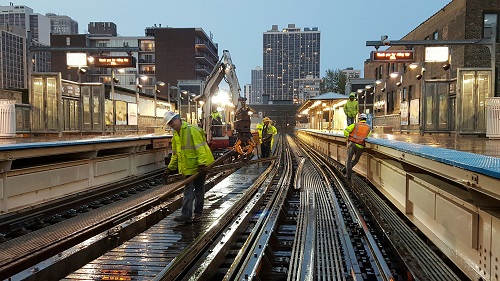 In January 2017, FTA posted Fiscal Year 2016 Safety Research and Demonstration (SRD) Program project selections. 
Overview
The Safety Research and Demonstration (SRD) Program is part of a larger safety research effort at the U.S. Department of Transportation that provides technical and financial support for transit agencies to pursue innovative approaches to eliminate or mitigate safety hazards. The SRD program focuses on demonstration of technologies and safer designs. SRD goals include:
Advancing the development of materials, technologies and safer designs to reduce the number of collisions and fatalities and mitigate the severity of transit-related injuries.
Increasing the knowledge about the interface between machinery and people -- both transit workers and passengers -- and reduce the potential for safety-related incidents.
Improving the safety culture at transit agencies, including stakeholder coordination and outreach.
Supporting the development of transit safety standards, protocols and best practices.
Objectives
The FY16 SRD program is intended to help transit agencies:
Explore advanced technologies to prevent transit vehicle collisions
Enhance safety of transit services by incorporating safer design elements
Evaluate cost-effectiveness and practicability of potential solutions
Eligible Activities
The FY16 SRD program targets 1) collision avoidance and mitigation; and 2) transit worker safety protection. The program provides financial and technical assistance for transit agencies to pursue cutting-edge technologies and innovative approaches to safety. The funding is intended to assess the practicality and effectiveness of potential solutions to improve safety as well as influence transit industry guidance and standards.
To ensure proposed demonstration projects address the needs of transit agencies, FTA requires that applicants identify partnerships with at least one transit agency. FTA will assess the strength of those partnerships as part of its evaluation of applications.
Eligible Recipients
Applicants for the SRD program must be existing FTA grant recipients. An application must clearly identify the eligible lead applicant and all project partners on the team. Eligible project partners and sub-recipients may include, but are not limited to:
Public transportation systems
Private for profit and nonprofit organizations, including technology system suppliers and bus manufacturers
Operators of transportation, such as employee shuttle services or airport connector services or university transportation systems
State or local government entities
Other organizations that may contribute to the success of the project team including consultants, research consortia or nonprofit industry organizations, and institutions of higher education
Statutory References
49 U.S.C. Section 5312
Allocation of Funding
SRD projects are funded under FTA's Research, Development, Demonstration and Deployment program authority. A total of $7 million is available for awards. FTA intends to award multiple SRD projects under this announcement.
Match
The federal share of project costs under this program is limited to 80 percent. Proposers may seek a lower federal contribution. The applicant must provide the local share of the net project cost in cash, or in-kind, and must document in its application the source of the local match. 
Deadline
Project selections were announced in winter 2017.