Bus Exportable Power Systems (BEPS)
What's New
On August 4, 2022, FTA announced the selection of a research group led by Inventev in Detroit, Michigan, to carry out the BEPS program. 
Inventev and its partners have now started the process of developing standards and specifications for BEPS technologies.
The target completion date is September 2024 with a hardware demonstration of BEPS in a practical environment.
Overview
FTA's Bus Exportable Power Systems (BEPS) program enables public transportation agencies, communities, and states to access resilient and flexible power options through hybrid electric bus fleet vehicles during major power disruptions. This program builds on BEPS technologies developed under FTA's previous research grants that provided the ability to address a need for generating power immediately after natural disasters by transforming hybrid electric and fuel cell buses into mobile power generators.
The goal of this project is to develop "standards" to interconnect electrified transit buses to buildings, shelters, and microgrids for use as an emergency power supply after incidents that disrupt the local power grid.   
Goal
To develop national interoperable BEPS standards – working with FTA, industry stakeholders and technical partners – so that different manufacturers' systems can use the same technology base and applications for BEPS solutions.
Objectives
The primary objectives of BEPS program are:
completion of an industry literature review on BEPS assessing system parameters, specifications, past results and recommendations; 
technology scans, surveys or case studies with transit agencies with experience utilizing BEPS; 
standards development;  
demonstration of a plug-and-play BEPS system that includes minimum specifications and parameters for interoperability; 
and a guide to implementing a BEPS system using these standards.
Eligible Activities
Eligible activities include all activities and efforts leading to the development of interoperable BEPS standards. Examples of project activities and efforts include but not limited to:
System design and demonstration of portable units, industry survey and data collection on existing BEPS systems; 
System specifications and standards development; 
Innovations for providing more effective and efficient BEPS systems using public-private partnerships with non-traditional transportation providers; 
Stakeholder collaboration convenings; literature reviews or case studies on BEPS systems; 
Surveys on BEPS systems in other industries that could be applicable to public transit BEPS systems; data collection and analytics; 
Establishing various use cases for BEPS deployment needs; defining system requirements; modeling and simulation; 
Development, validation and verification of the specification; and 
Development of industry standards and a guidebook for BEPS solutions that can be shared with the transit industry, including hybrid electric and fuel cell transit bus manufacturers.
Eligible Recipients
Eligible recipients include:
Providers of public transportation, including public transportation agencies, state or local government DOTs, and federally recognized Indian tribes;
Private for-profit and not-for-profit organizations, or consultants;
State, city or local government entities, including multi-jurisdictional partnerships, and organizations such as Metropolitan Planning Organizations;
Other organizations, including research consortia, not-for-profit industry organizations, and institutions of higher education, including large research universities, particularly those with Minority Serving Institution status;
Standard Development Organizations (SDOs)
Statutory Reference
The Standard Development for Bus Exportable Power Systems Competitive Funding Opportunity implements House Appropriations Committee direction accompanying  the Consolidated Appropriations Act, 2021 (Pub. L. 116-260), that directed FTA to fund no less than $1,000,000 to develop interoperable national standards for BEPS that allow use of hybrid electric, and fuel cell buses as mobile power generators to power facilities such as hospitals following natural disasters, and is authorized under Technical Assistance and Workforce Development Program (49 U.S.C. § 5314).
Allocation of Funding
BEPS projects are funded under FTA's Technical Assistance and Workforce Development Program.
Match
The Federal share of project costs under this program is 100 percent. 
The Value of Bus Exportable Power Systems
BEPS will perform a critical role in emergency situations:
Electric buses will have the ability to drive up to buildings such as a schools, places of worship, or stores and within a very short time be able to provide 75kW of power to maintain all important functions.  
The power source will let the buildings function as an emergency shelter or at least perform in normal capacity.
In addition to electric buses, hybrid or fuel-cell buses will also be able to provide this emergency power due to standards compatibility.
Potential Users of Bus Exportable Power Systems
Multiple users will be able to use BEPS safely and efficiently including:
Owners/operators of the buildings.
Local, state, and federal authorities who designate buildings as safety and resilience centers.
Fire, police, and other emergency personnel.
BEPS Interim Solution
The figure below shows the BEPS configuration with external inverter to transfer power from an electric or hybrid bus to a building. This is an interim solution until the manufacturers integrate power conversion in the bus. The integrated BEPS configuration is shown above.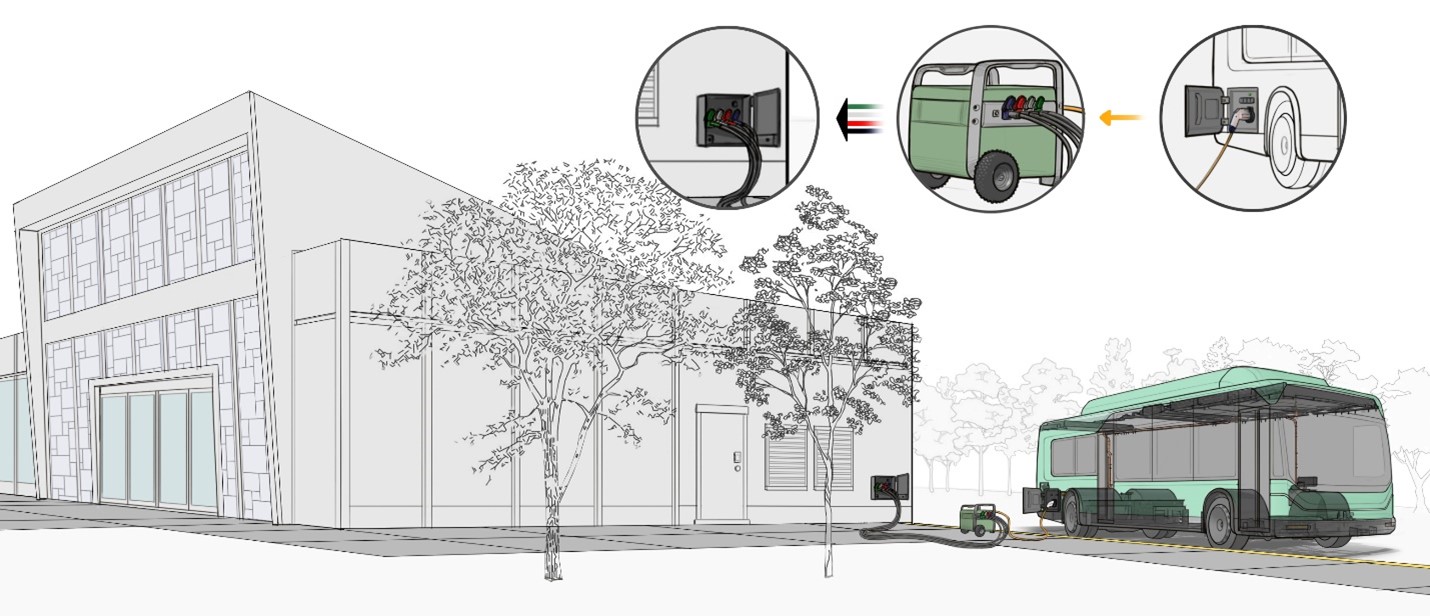 Resources
Bus Exportable Power Supply (BEPS) System Use Strategy: Investigating the Use of Transit Buses as Emergency Generators (Report 0146)
Additional Information
Subscribe to receive project updates. The project sponsor requests feedback on the project and may send surveys to subscribers.