American Rescue Plan Act of 2021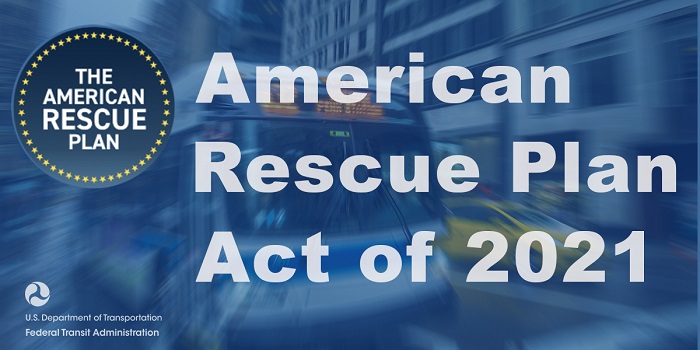 The American Rescue Plan Act of 2021 (ARP), which President Biden signed on March 11, 2021, includes $30.5 billion in federal funding to support the nation's public transportation systems as they continue to respond to the COVID-19 pandemic and support the President's call to vaccinate the U.S. population.
The relief funds are being distributed as follows, at 100-percent federal share:
See FTA's American Rescue Plan Act Fact Sheet. 
American Rescue Plan (ARP) Additional Assistance Route Planning Restoration Program
On Thursday, June 2, FTA announced $25 million in discretionary grant funding selections for 50 transit projects in 24 states through the American Rescue Plan to help public transportation agencies return service from COVID-19 suspensions in ways that can best serve their communities.
The Route Planning Restoration Program provides funds under the American Rescue Plan Act of 2021 for public transportation planning associated with the restoration of transit service reduced due to the COVID-19 pandemic. Under FTA's Route Planning Restoration Program, funding can be used for transit route restoration planning that is designed to increase ridership following the COVID-19 pandemic, reduce travel times and make adjustments to increase the quality or frequency of transit service for low-income riders and those in disadvantaged neighborhoods or communities who may need increased service to get to jobs, shopping and health care.
American Rescue Plan (ARP) Additional Assistance Funding
On Monday, March 7, FTA announced funding selections for $2.2 billion in discretionary grant funding for transit systems demonstrating additional pandemic-associated needs. 
Additional Assistance funding is being awarded to 35 transit systems in 18 states demonstrating additional assistance is needed to cover operating expenses related to maintaining day-to-day operations, cleaning and sanitization, combating the spread of pathogens on transit systems and maintaining critical staffing levels.
NOFO Information | Webinar Presentation | Webinar Recording
American Rescue Plan Webinar
FTA hosted an American Recue Plan Act webinar for the public transportation industry on April 2, 2021. The webinar provided an overview of the program, described eligibility requirements and allowed an opportunity to ask questions.
American Rescue Plan Act Apportionments
ARP formula funding is being disbursed through FTA apportionments to its Urbanized Area, Rural Formula, Tribal Transit, and Enhanced Mobility of Older Adults and Individuals with Disabilities programs. 
American Rescue Plan Act Project Signage
Transit construction projects funded wholly or in part by BIL funds should follow Investing in America signage guidelines. Download the guidelines and sign templates at FTA's Investing in America Signage webpage.