A significant factor in rising healthcare costs is the prevalence of chronic disease across the country, with a disparate impact on low income populations. According to the Centers for Disease Control and Prevention (CDC), chronic conditions such as heart disease, stroke, cancer, diabetes, obesity and arthritis are among the most common, costly, and preventable of all health problems and the leading causes of death and disability in the United States. CDC notes that 86% of all healthcare spending in 2010 were for individuals with one or more chronic medical condition, contributing to the approximate 17% of GDP being spent on healthcare. Chronic conditions reduce workplace productivity and cause absenteeism, producing an annual economic loss of over $1 trillion.  
Lack of transportation access can create a barrier for treatment and screening, with an estimated 3.6 million Americans missing or delaying non-emergency medical care each year because of transportation issues. Many people may not make appointments or take advantage of free health screenings due to not being able to get a ride.
For all of these reasons, the Federal Transit Administration launched the Transit & Health Access Initiative to increase partnerships between health and transportation providers and show the positive financial benefit to such partnerships.
The initiative's goals are to: 
Increase access to care
Improve health outcomes
Reduce healthcare costs
In March 2015, FTA hosted a cross-agency summit to clarify the needs, identify the barriers and brainstorm solutions. Representatives from FTA, HHS, USDA and the Department of Veterans Affairs attended.
The FAST Act included a competitive pilot program for innovative coordinated access and mobility (Section 3006(b)) to help finance innovative projects for the transportation disadvantaged that improve the coordination of transportation services and non-emergency medical transportation (NEMT) services. The Access and Mobility Partnership grants fund projects that include:
the deployment of coordination technology
projects that create or increase access to community
one-call/one-click centers
The FAST Act authorized the pilot program for five years, starting in 2016. To receive notices of funding, sign up for email updates. Additional resources on the Rides to Wellness Initiative:
Transit & Health Access Community Scan Project (Spring 2017)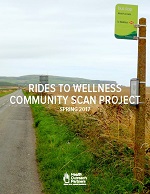 To determine the impact of transportation barriers on health care costs and begin to demonstrate the return on investment for providing transportation to care, FTA funded the Transit & Health Access Community Scan Project through a cooperative agreement with Health Outreach Partners (HOP). In May 2016, HOP launched the project, which was intended to determine the impact of transportation barriers on health care costs and to highlight existing, patient-centered transportation solutions. The project consisted of two elements, the results of which are summarized in the report:
National survey: Implementation of a national survey of health centers and private providers to identify the impact of lack of transportation on missed medical appointments and associated health care costs 
Community profiles: Development of profiles illustrating communities that are adopting patient-centered transportation solutions that show promising opportunities for return on investment
Veterans Transportation Community Living Initiative
National Center for Mobility Management
Updated: Sunday, May 27, 2018