Region 9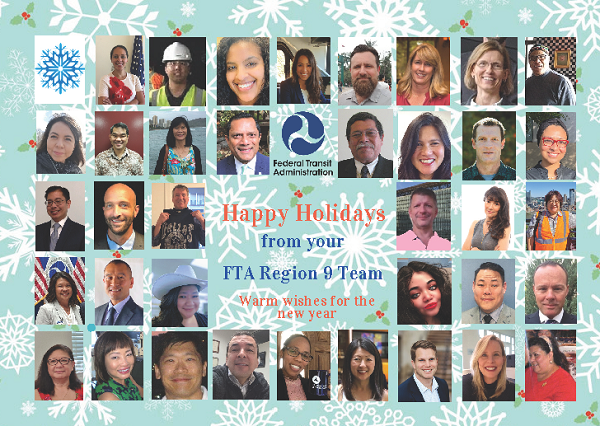 Top Row: Dominique, Anh-Huy, Mahilet, Brenda, Matthew, Stacy, Janice, Jerome
2nd Row: Arianna, Ryan, Cathy, Ray, Ed (retired), Martia, Alex, Amitra
3rd Row: Mervin, Forrest, Ted, Darin, Lucinda, Phil
4th Row: Delilah, Luis, Mary, Regina, Henry, Jim
Bottom Row: Philoki, Susan, Tony, Bernardo, Candice, Charlene, Rusty, Whitney, Elba
What's New?
Upcoming Events
Training - Check also for scheduled opportunities online and in classrooms.
Hiring: Job Postings
USA Jobs - Check for openings in other FTA offices, USDOT, or the Federal Government. 
---
To suggest or request content for posting to FTA Region 9 webpages, please contact FTA Region 9's webmaster.