Terry Garcia Crews
FTA Region 3 Regional Administrator
Terry Garcia Crews joined the Federal Transit Administration (FTA) in February of 2015 as the Regional Administrator.  She and her team oversee the Federal funding for Delaware, Maryland, Pennsylvania, Virginia, West Virginia, and the District of Columbia.  Ms. Garcia Crews guides 28 professionals in two offices, Philadelphia and Washington, DC, who provide grant development and program management support to our community partners.
With executive leadership experience, Ms. Garcia Crews served as Chief Executive Officer for several transportation agencies.  She managed Metro in Cincinnati, including a 356-bus fleet and a workforce of 828.  She also led transit systems in Austin, Texas; Lexington, Kentucky; Poughkeepsie, New York; and Tucson, Arizona.
Prior to joining the public sector, her banking industry experience established a foundation for bottom line expectations and garnering a solid return on investment on projects and services.  Additionally, as a national transportation consultant, she assisted clients nationwide and formulated strategic plans and public awareness programs.  Ms. Garcia Crews' experience leading multi-dimensional organizations produced demonstrated results in achieving financial sustainability, improving service, effecting cultural change and fostering stakeholder support. 
A recognized leader in the transit industry, she was actively involved with the American Public Transportation Association (APTA) as a member of several key committees, the board of directors and chaired the Mid-Size Bus Operations Committee.  She participated in APTA's Workforce Development Program as a national mentor.  She has also been involved with the Transit Cooperative Research Program and was on the project oversight and selection committee.  Ms. Garcia Crews served on the boards of the Downtown Cincinnati Inc., Freestore FoodBank, and Ohio, Kentucky, Indiana Regional Council of Government and the YMCA.
While at FTA, she has been recognized for her high-achieving performance and received several U.S. Department of Transportation awards for partnership, regional team excellence, program oversight and safety program execution.
Ms. Garcia Crews has a Bachelor's of Science in Business Administration and a Double Major in Finance and Marketing.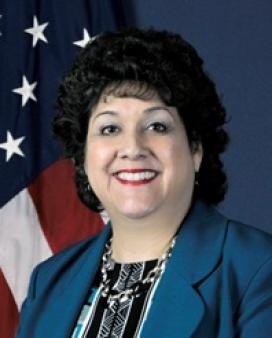 Last updated: Friday, July 17, 2020