Stephen Goodman
FTA Region 2 Regional Administrator 
In December 2016, Stephen Goodman became the Regional Administrator for FTA's Region 2 office in New York. As Regional Administrator, Mr. Goodman has oversight responsibility for a portfolio of FTA-funded programs and projects totaling approximately $20 billion, with an average annual federal commitment of about $2.5 billion.
Previously, Mr. Goodman served as director of FTA's Lower Manhattan Recovery Office, which supports the rebuilding of transportation infrastructure and the economic revitalization of lower Manhattan following the tragic events of 9/11. In that role, he was also responsible for overseeing the $12 billion East Side Access project, which will give Long Island Rail Road access into a new concourse at New York's Grand Central Terminal, and the $5.5 billion Second Avenue Subway project that addresses the Lexington Avenue line capacity issues. He also oversaw efforts to provide technical support and more than $4.5 billion in emergency funding in coordination with federal, state and local agencies. Per Congressional direction, FTA, with Mr. Goodman at the helm, was the lead agency in administering recovery and resiliency funds.
Mr. Goodman also served as Director of the Hurricane Sandy Recovery Office, established after the super storm struck the region in October 2012. The storm, which had a tremendous impact on the New York/ New Jersey region, halted its transit system and heavily damaged transit infrastructure. Mr. Goodman led the FTA team involved in the Hurricane Sandy Recovery effort, providing technical support and coordinating emergency funding of more than $10 billion with federal, state and local agencies.
Before joining the FTA in 2008, Mr. Goodman spent 20 years at the Federal Aviation Administration (FAA), managing high-profile programs and projects. While at FAA, Mr. Goodman served as the terminal construction center manager, overseeing large-scale projects for FAA's Eastern Region and also was responsible for defining requirements for facility and equipment investments at some of the nation's largest airports.
Mr. Goodman has a Bachelor's Degree in Civil Engineering from Manhattan College and is a registered Professional Engineer and certified Project Management Professional.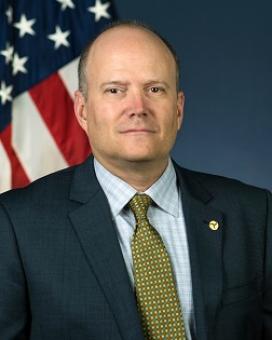 Last updated: Monday, November 9, 2015