Joint Development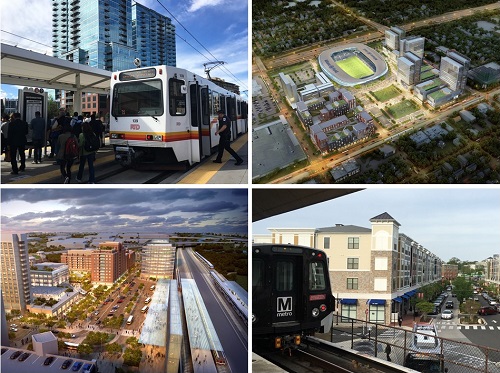 What's New
FTA is considering changes to its Joint Development Guidance (Circular 7050.1A). The changes would increase flexibility for transit agencies to pursue joint development projects, resulting in more value capture opportunities that help create value for both transit systems and surrounding communities. FTA staff are reviewing public comments received through June 3.
Overview
Joint development projects involve:
Integrated development of transit and non-transit improvements, with transit projects physically or functionally related to commercial, residential, or mixed-use development
Public and private investments that are coordinated between transit agencies and developers to improve land owned by a transit agency or related to a transit improvement
Mutual benefit and shared cost among all parties involved
Joint development would occur when a transit agency partners with a developer to lease property owned by the transit agency near a transit station to build office space or residential units, thereby raising revenue for the transit system in the process.
Another example of a joint development would be coordinated construction of an underground transit station and a mixed-use development above it in the air rights. A project like this could be accomplished using a public-private partnership (P3).
Joint development is a form of value capture, as a transit agency captures some of the economic value created by its transit system and uses the funds to help finance expenses.
If a project receives financial assistance from FTA, then it is an FTA-assisted joint development. Joint development projects may utilize financial assistance from FTA through:
New grant funding through one of FTA's planning or capital grants programs
Development of property or air rights previously acquired with FTA grant funding
FTA does not offer a grants program specifically for joint development. FTA-assisted joint developments are subject to the requirements of the FTA grants program through which they received funding.
Last updated: Monday, June 10, 2019