Before and After Studies of New Starts Projects
Federal law requires sponsors of transit projects receiving major capital project funding from FTA to produce a Before-and-After Study that assesses the impact of the project after it is built. In the study, the project sponsor compares predicted versus actual construction costs, service levels, project scope and ridership after project has opened. These studies inform FTA's decisions on future proposed projects and contribute to the likelihood that major capital projects will start on time, finish on budget and meet ridership goals.
What's New
Click blue-shaded areas to view Before-and-After Studies by state or view the list by year.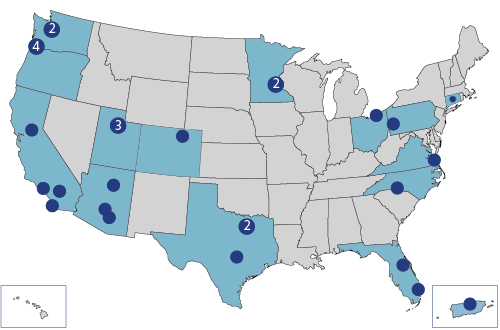 - Numbers indicate multiple projects
Before-and-After Studies by Year
Reports analyze the impact that a New Starts project has on transit services and ridership, evaluate the consistency of predicted and actual project characteristics and performance, and identify differences between predicted and actual outcomes.
2021
2020
2019
2018
2016
2015
2014
2013
2012
2011
2008
2007
Last updated: Monday, November 8, 2021