America's Open and Transit's Open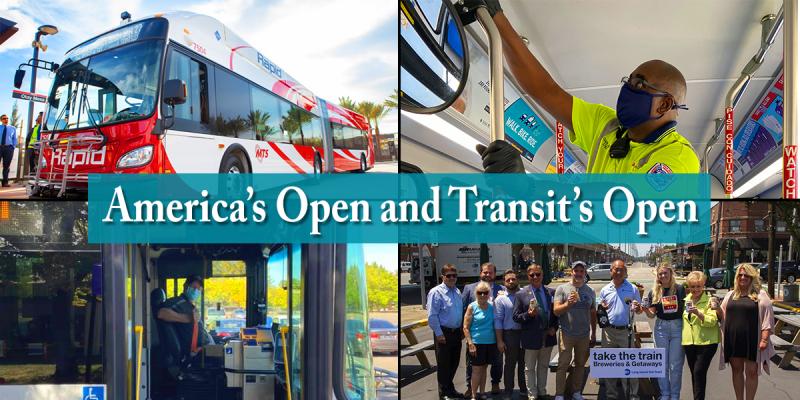 With traffic returning to America's roads more people are riding public transportation nationwide. In some communities, transit ridership is up more than 80 percent over early 2020 levels. Join FTA all summer long in a national conversation about what's working to help transit agencies across America renew ridership.
Listening Sessions:
FTA is committed to providing equal access to this session for all participants. If you need alternative formats, options or services, contact anna.corniel@dot.gov.
Social Media Posts
| | |
| --- | --- |
| | Bay Area Council, a SF Bay Area organization, launched a #TixforTransit contest to promote transit agencies adding back routes & more frequent service. Riders snapped a selfie riding Bay Area Rapid Transit, SFMTA | San Francisco Municipal Transportation Agency, Caltrain & others for a chance to win tickets to local sporting events. bayareacouncil.org/tixfortransit |
| | When it's sizzling hot, take the bus to the beach! DART First State takes beach-goers to Rehoboth Beach's downtown and beachfront, minus the traffic & parking fees. America's Open & Transit's Open! dartfirststate.com |
| | America's Open & Transit's Open! In New Orleans, riders can use their #jazzypass on all modes: bus, streetcar or ferry. New Orleans RTA is back & making transit in #NOLA better than ever! norta.com/returntoservice. |
| | America's Open & Transit's Open! MTA's #TakeTheTrain #TakeTheBus messages are appearing on digital signs, buses & billboards. Ridership is up throughout the nation's largest transit system, dwarfing the combined 2020 average on MTA, LIRR & Metro North Railroad. https://bit.ly/3i6VQ8K |
| | HIRTA Public Transit is engaging riders & others in central Iowa to let them know America's Open and Transit's Open! The campaign focuses on rider outreach, with positive results – a 9% increase in riders in June compared to May – and messaging on bus-cleaning protocols and safety measures to reassure riders, plus a monthlong wellness challenge promoting self-improvement tips. HIRTA's health priority can be found on their website: https://bit.ly/3xKEiou |
| | Echoing the spirit of America's Open & Transit's Open, NC Transit Agencies GoRaleigh, GoTriangle, GoDurham, & Town of Cary, NC's Go Cary have suspended bus fares until June 2022. Transit agencies are doing their part to ease the burden on riders who rely on transit to get to work, health care, grocery shopping, and other important places. Free fares are made possible by FTA COVID-19 recovery grants. https://bit.ly/3B7hUYh |
| | As Americans are going to work, shopping and visiting friends and loved ones, transit ridership is rebounding in communities across the nation – more than 80% over early 2020 levels in some areas. https://bit.ly/3ziCP9a |
| | America's Open & Transit's Open! Ridership on the Chicago Transit Authority transit system has doubled since the start of the year & continues to grow. Since January, ridership has jumped 56% to 4 million rides per week. Rail ridership was up 94% - in part thanks to CTA's "When You're Ready, We're Ready!" outreach campaign promoting cleaning & safety protocols, a program to improve 125+ stations, and a summer fare discount program. bit.ly/CTAready  |
| | The Portland Bureau of Transportation is showing how America's Open & Transit's Open by encouraging residents & visitors to "get outside and get going" by riding transit to every activity the city has to offer, including a video of The Unipiper taking a TriMet bus downtown. bit.ly/3ko9eHo  |
| | Train me out to the ballgame! In Denver, RTD provided rides to thousands attending the MLB All Star Game events last week –36% more riders for the July 12 Home Run Derby than the average for 3 previous weeks. Taking the train & bus to Coors Field in downtown Denver took hundreds of cars off the road, reduced emissions & helped fans have an easier travel experience – Denver knows that America's Open and Transit's Open! https://bit.ly/3hQnsyM |
| | Rogue Valley Transit in Medford, OR keeps in touch with its riders, using eye-catching social media & other tools to engage the community with must-have travel info & contests with prizes. Kudos to our transit partners for their work to convey America's Open and Transit's Open! https://rvtd.org/ |
| | America's Open and Transit's Open. Here's how WMATA in Washington, DC is encouraging people to get on board. https://www.youtube.com/watch?v=sruvg2lRv8w |
We'd like to hear your ideas as part of FTA's national conversation about best practices to help transit agencies across America renew ridership. Contact us at transitsopen@dot.gov.
Last updated: Friday, July 30, 2021