Yvette G. Taylor
FTA Region 4 Regional Administrator 
Dr. Yvette G. Taylor joined the Federal Transit Administration in October 2005 as the Regional Administrator in Region 4. Previously she served in senior positions at the U.S. Environmental Protection Agency (EPA), Office of Management and Budget (OMB), and the National Aeronautics and Space Administration (NASA).
As Regional Administrator, she is responsible for administering federal funding to support a variety of locally planned, constructed, and operated public transportation systems throughout the Southeastern Region. Region IV encompasses Alabama, Mississippi, Georgia, Tennessee, Kentucky, North Carolina, South Carolina, Florida, Commonwealth of Puerto Rico, and the U.S. Virgin Islands.
While at EPA, Dr. Taylor held the position of Director of the Superfund / RCRA Regional Procurement Operations Division in the Office of Administration and Resource Management. She had oversight of all the major Superfund contracts and served as the Chief Contracting Officer for 10 regional offices.

During her tenure at OMB, Dr. Taylor served as a Deputy Associate Administrator in the Office of Federal Procurement Policy, responsible for providing leadership and management direction on government-wide policies and procedures for the procurement of property and services by the Executive Branch.  Her primary areas of expertise included major systems acquisitions, capital programming / capital planning and investment control processes for acquiring capital assets across the government, including information technology.  She served as a liaison to the Procurement Executive Council, Civilian Agency Acquisition Council, and the Federal Acquisition Regulation Council.

Prior to joining the staff of OFPP, Dr. Taylor served as a senior acquisition official at NASA where she managed the Joint U.S. / Russian Space Agency Program at the Johnson Space Center and provided leadership to numerous multi-million dollar procurement programs in support of the International Space Station Program.  Dr. Taylor began her career at the Marshall Space Flight Center where she worked in the Shuttle Division, R&D and Operations Division, and Advanced Flight Systems Division.

Dr. Taylor holds a Bachelor's of Science in Business Administration, as well as an MBA and a Ph.D. in Management.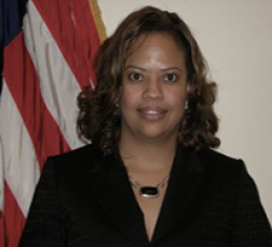 Last updated: Friday, July 17, 2020