U.S. Department of Transportation Announces Three CIG Project Sponsors Approved to Use $64 Million in Cost Savings for Additional Eligible Activities
Friday, February 28, 2020
2/28/2020
FTA encourages project sponsors to complete projects under budget, ahead of schedule
WASHINGTON – The U.S. Department of Transportation's (DOT) Federal Transit Administration (FTA) today announced that three project sponsors of Capital Investment Grants (CIG) Program projects are approved to use a combined $64.2 million of the federal share of project cost savings for eligible activities related to their original projects. This approval will allow for additional public transportation improvements to support safety and increase access and mobility for residents in Florida and Texas.
FTA encourages project sponsors in the CIG Program to develop realistic cost estimates when planning a project. Savings to the FTA generated from a completed CIG project can then be considered for use on eligible activities related to the project.
"FTA considers and approves additional project activities using the federal share of a project's cost savings," said FTA Acting Administrator K. Jane Williams. "We encourage project sponsors who deliver complete projects under budget to discuss these options with us to maximize the benefits that cost savings can bring to their communities."
Project sponsors approved to retain some of FTA's project cost savings are as follows:
Trinity Metro in Fort Worth, Texas, will retain up to $38.9 million in the federal share of project cost savings to build a 2.1-mile extension of the TEX Rail Commuter New Starts project estimated to cost approximately $100 million. The project will extend the line from the Texas & Pacific Station to a proposed Medical District, a growing area located southwest of Downtown Fort Worth. Trinity Metro completed the TEX Rail project 12 months early and $80.6 million under budget.
 
Houston Metro in Houston, Texas, will retain up to $18.5 million in the federal share of project cost savings to build the proposed Northline Transit Center at the end of the North Corridor Light Rail New Starts Project. The center will have seven bus bays and a 660-space parking garage, costing $37 million. Houston Metro completed the North Corridor project 18 months early and $83.8 million under budget.
 
The Jacksonville Transportation Authority (JTA) in Jacksonville, Florida, will retain up to $6.8 million in the federal share of project cost savings to construct a 1,200-foot extension of the East Corridor Bus Rapid Transit (BRT) project to meet safety standards set by the Florida Department of Transportation and to undertake additional safety, security, and system needs for the new Jacksonville Regional Transportation Center (JRTC) which will serve as a multimodal hub. The cost estimate for these activities is $13.6 million. JTA completed the East Corridor BRT project 25 months early and $13.6 million under budget.
Since January 20, 2017, FTA has advanced funding for 25 new CIG projects throughout the nation totaling approximately $7.6 billion in funding commitments. The Administration has executed 22 CIG funding agreements totaling more than $4.55 billion in CIG funding.
###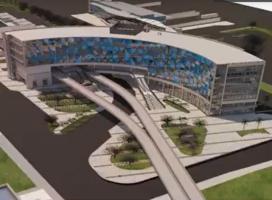 Jacksonville Regional Transportation Center rendering