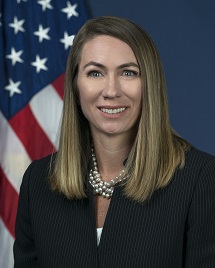 Jamie Pfister is Director of the FTA Washington Metropolitan Area Transit Authority (WMATA) Safety Oversight Team, which provides temporary and direct federal oversight of the WMATA Metrorail system. As Director, she leads a team of multidisciplinary staff of inspectors, auditors and investigators to identify safety deficiencies, verify WMATA's progress on implementing safety-related Corrective Action Plans and remedial actions, and assess whether WMATA is effectively carrying out its own critical maintenance, operations, and training programs.
Previously, Jamie served as the FTA Deputy Associate Administrator in the Office of Research, Demonstration and Innovation. In that position, Jamie was responsible for helping formulate strategies and programs that advance public transportation innovation through selected investments in research and development, demonstration, and deployment projects.  
Prior to her role as Deputy Associate Administrator, Jamie was the Director of the Office of Transit Programs in the FTA Office of Program Management and was responsible for the FTA's largest formula funding programs, several critical discretionary programs, and many of the FTA national technical assistance centers.  Prior to that, Jamie spent nine years working in the FTA Region IV office in Atlanta as an engineer, team leader, and later, the Director of Planning and Program Development.  She has extensive experience working with transit stakeholders, overseeing FTA grantees for compliance with federal programs, developing policies and program guidance, and managing programs that support public transportation.
Jamie has a Bachelor of Science degree in Industrial and Systems Engineering from Georgia Institute of Technology and a Master of Business Administration from Georgia State University.  
Updated: Monday, August 7, 2017