Veronica Vanterpool
Deputy Administrator
Veronica Vanterpool was appointed Deputy Administrator in May 2022 after serving as Senior Advisor since August 2021. She works directly with the Administrator of the Federal Transit Administration and as a member of the FTA team to advance the policy objectives and goals of the Biden-Harris Administration.
Vanterpool came to FTA from Delaware Transit Corporation, where she served as the agency's first Chief Innovation Officer. During her time at the agency, she launched the state's first on-demand microtransit service in a rural community and oversaw the autonomous shuttle demonstration program. Her previous roles include being the Deputy Director of the national Vision Zero Network, executive director of the New York City based Tri-State Transportation Campaign and board member of the New York Metropolitan Transportation Authority.
Having served on a number of boards, commissions, task forces and working groups, Vanterpool has 15 years of experience in advocacy, policy, media communications, public outreach, coalition building and issue campaigns.
She is a native New Yorker born and raised in The Bronx.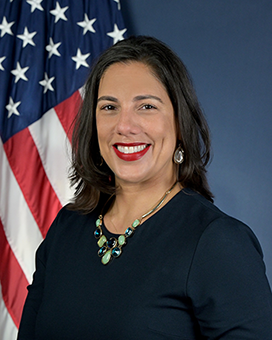 Last updated: Wednesday, June 29, 2022